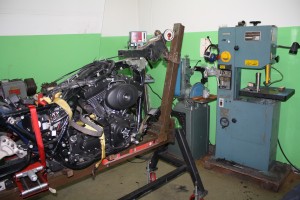 WHEN RAKING A FRAME IT IS OF GREAT IMPORTANCE TO WELD IN THE NEW NECK AT THE PRECISE DEGREE AS WELL AS BEING TRUE VERTICAL AND HORIZONTAL POSITION.
To install a 23, 26 or 30 inch front wheel on your ride, you need to rake the frame. JLC can rake it 7 or 9 degrees depending on the size. This will eliminate the high speed wobble or wheel flop. Please note that this procedure is not recommended for every day riding but more for show bikes. JLC will not be responsible for any problems that occur from this procedure.
WE EXCLUSIVELY USE A JERICO MOTORCYCLE FRAME MACHINE. ONCE WE PUT YOUR BIKE ON OUR RACK AND SET UP THE NECK, WE CAN WELD IN THE NEW NECK WITH PRECISE MEASUREMENTS.
DONT LET SOMEONE RAKE  YOUR FRAME WITH OUT THIS PIECE OF EQUIPTMENT.